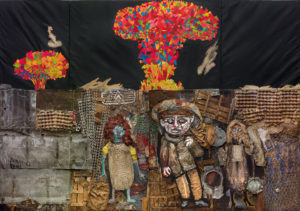 Being a public scholar, to me, means being of use. It means that my work is about real people and relevant problems, that I am emotionally engaged in what I study as well as intellectually excited by it, and that I value collaborating over competing with my classmates, colleagues, and community. The skills and knowledge I'm gaining through my academic training are informed, infused, and inspired by years of living, teaching, and working in 7 U.S. states and 7 countries. At the same time, I insist (amidst a political climate hostile to and suspicious of intellectualism) that what I'm coming to know and be able to do as a humanities scholar–value complexity; look with a long eye across history to see common patterns; understand trauma and human psychology; translate between disciplines, languages, and cultural texts–is important, too. These are not abilities that should be guarded by the academy but rather deployed in service of, and with the participation of, our communities. This is what I seek to do as a public scholar.
Below are some of the projects I am or have been involved with. Teaching is my great love and most consistent form of public scholarship; to read in more detail about my experiences as a teacher, go here.
As a Mellon Engaged Scholar Initiative Fellow, I have been selected to receive dissertation support and dedicate a postdoctoral year at UT-Austin to the design and execution of a project in public scholarship. I'll be adding more information about this as it develops!
I have been working with Grassroots Leadership, an Austin-based immigration rights advocacy nonprofit, since September 2017 as a volunteer with the Amigas de Hutto program. The purpose of this program, besides to break the isolation and invisibility experienced in detention, is to organize with women currently detained at the T. Don Hutto Residential Center in order to raise awareness and demand action related to human rights abuses suffered at the center. These include sexual assault and harassment, employment abuses, inadequate access to health care, and more. I have translated letters written by women whose children were separated from them at the border from Spanish to English and participated as a witness in the ICE on Trial tribunal held May 5, 2018, in which formerly detained women delivered testimony and publicly condemned ICE officials for human rights abuses. Read an article (in Spanish) for which I was interviewed here.
I also do ongoing work as a curriculum development volunteer for the Reading Rock Stars program, part of the nonprofit Texas Book Festival based in Austin. This initiative arranges author visits and free books for elementary school students in partnership with low-income schools across Texas, with special attention given to multi-ethnic authors. I write reading guides aligned to state standards for teachers of students from pre-K to 5th grade, based on the featured text and the author they are preparing to meet. I am also working on connecting the intermediate Spanish class I teach at UT to the organization via volunteer events for students (such as reading children's books they have translated from English to Spanish to kids at local schools and events).
I volunteer with Austin Bat Cave, a nonprofit that conducts free writing workshops in schools and communities across Austin, to provide writing instructional support once a week in two fourth-grade classrooms at a low-income elementary school in north Austin. One of these classrooms is monolingual (English-speaking) and the other is bilingual (Spanish and English).
I designed and taught a 4-session professional development workshop on positive classroom management for K-12 public school teachers in the Rio Grande Valley, Texas, from January to May of 2013. Drawing from the text Teaching With Love and Logic, the workshop modeled strategies for creating a strong sense of community and interdependence in the classroom.
As a Teacher-Ranger-Teacher, I worked at Canyonlands National Park in Moab, UT in the summer of 2012. This is a program designed as an exchange between the NPS and teachers in low-income US public schools, in which teachers develop their skills in curriculum instruction as interpretive park rangers working to connect visitors to the rich histories–ecological, geological, and human–of the parks. In turn, once back at their home campus, teachers work to connect students to the National Parks, conservation, and environmental awareness. As a TRT, I created various interpretive resources for the park, including a Canyonlands-specific magnetic poetry set, and regularly delivered this 30-minute interactive presentation: Voices of Canyonlands Patio Talk.
I was a founding instructor and curriculum coordinator at the Futuro Latino Learning Center in Towson, MD, from 2009 to 2011. Directed by Frances Ramos-Fontán, an instructor in the Spanish department at Goucher College, the FLLC provides community support and educational services to Latino/a/e migrants in Baltimore County. I designed curriculum, assisted with the training of volunteers, and served as an instructor in both the English as a Second Language program and the Espacio Educación Saturday School, a bilingual cultural program for children.
As an ESL and Linguistic Services Volunteer at the Monteverde Institute in Monteverde, Costa Rica, I returned yearly for a 4-6 week commitment in 2009, 2010, and 2011. Some of the projects I worked on included writing a complete 12-week, 24-class basic course of English with full curricula for four levels as well as ESL teacher training materials; performing interviews with ten community members with disabilities to assess their needs and present possible short-term improvements to APAPNEM, a local non-profit organization dedicated to improving conditions  for people of the region with disabilities; and translating educational materials and curricula from Spanish to English for use in the Monteverde Institute Spanish Department as well as grant proposals related to sustainability initiatives from English to Spanish.
Together with my partner, Matt Cohen-Price, I was the compiler and translator for a booklet entitled Una cosecha de la ciencia: Más de 10 años de estudios sobre el café ("A Science Harvest: More than 10 Years of Coffee Research"). The purpose of this project was to make the most relevant and useful English-language studies that had been done by foreign researchers on their land accessible to coffee farmers in Monteverde Zone, Costa Rica for the first time. We published the books with a grant from Goucher College's Social Justice Committee, and I traveled to Monteverde in January of 2011 to distribute them to farmers in a special ceremony held at the farmer's market.